To the West of the Highlands, the loch (lake) with the largest volume of water in the United Kingdom is waiting for you: Loch Ness. It is 20 miles (37 km) long, alongside a geological cleft and fault line (the Great Glen); to the South, the tiny town of Fort Augustus; to the North the outskirts of the city of Inverness. This loch, like others to which it is connected to, was created after the melting of an ancient glacier. His fame reached the entire world back in the 1930s, thanks to the reports of Nessie, a creature similar to a plesiosaur who could have survived to this day. The locals (and also visitors) spotted it on numerous occasions and even took pictures. As time went by, it has been called Nessie and it became one of Scotland's biggest claims. But Loch Ness is much more than the famous monster. Its shore has extraordinary flora and fauna and its historical heritage is not far behind. There are a few towns that also deserve a visit, such as Dores to the North, Inverfarigaig to the East and Drumnadrochit to the West, among others. In its shores you can also visit Urquhart Castle, the Loch Ness Center & Exhibition, not missing that several companies offer excursions to navigate the loch.
What to see on Loch Ness?
Although surely your eyes will be lost in the immensity of the loch looking for Nessie, we want to show you that its shore has many more possibilities to offer.

Boat cruise on Loch Ness


Navigating the loch is a good way to start exploring the landscape. Many companies offer their services from different ports, so depending on where you are you will find one or the other more convenient.
.
Where can you board the boat from and who offers the tours?
Several companies provide this service, most of them departing from the northern shore of the loch, close to the city of Inverness. One of the best known companies is Jacobite Cruises, which leaves from Inverness or from the loch. When cruises depart from the mouth of the Ness River, closer to Inverness, they will be a little more expensive than the routes that start from the loch shore itself, but you will also the opportunity not only to explore the river, but also the Caledonian Canal. Other cruise tickets include the visit to Urquhart Castle, to where you alight directly from the boat. Besides this company, you have a wider selection to choose from: Castle Cruises operates from Drumnadrochit and Cruise Loch Ness from Fort Augustus. Other companies do express services, to cross the loch all along only in a few hours, on an overdraft, and others fishing tours, such as Fish Loch Ness.
When can you take the boat?
On high season (Spring and Summer), these companies have many cruises a day, every day of the week, roughly from 10am to 4pm, every hour. These services may be reduced on low season, with bigger gaps in between boats, late starts and early ending times. So, please look at the timetable of your company before approaching Loch Ness. Cruises usually last between 1 and 3 hours, and in most services you have disabled access, car park area and pets are allowed.
How to get there?
If you are in Inverness, there are several docks from which you can board the boat: Dochgarroch Lock (5 miles from the city center); Clansman Harbour (9 miles from downtown) and Tomnahurich Bridge (1.5 miles from downtown). those departure places offer also different timetable, so please do check beforehand.

Ticket prices
Again, there is a huge diversity in prices depending on how long the cruise is and what activities or visits the cruise include. Tickets may range from £15 to the shortest cruises departing from Fort Augustus, to around £35 for the longest ones, including in some cases other attractions, like Urquhart Castle. Most of these services have concession tickets, and reductions for the youngest ones.

Urquhart Castle


With all due respect to Nessie, Urquhart Castle is one of the biggest attractions of Loch Ness. It is located on its west bank and has been watching over the loch since the 13th century. The first historical reference of occupation of this land date from the 6th century, when Scotland was turning into a Christian kingdom. But for a castle we have to wait a few centuries. It is believed that those who built the castle were members of Clan Durward, back in 1229. From that moment on, numerous owners succeeded each other, sincen the castle would be besieged, captured, lost and recovered countless times. It was captured by the British troops from Clan Grant, and then destroyed in 1692 in order to prevent the Jacobites seizing him back. Today it is in ruins, forming an architectural complex that, thanks to its exclusive location overlooking the loch makes it a very pleasant place to visit. In fact, as soon as you are there you will notice the incessant bustle of visitors arriving by bus or cruise ships. In 2001, Historic Environment Scotland set up an interesting interpretation centre at the castle, with a few services, for all visitors.

When to visit this castle?
Between the months of April and July, and also in September, the castle opens its doors from 9:30 a.m. to 6:00 p.m. The last ticket is sold at 5:15 p.m. In August you can access for longer, from 8:00 a.m. to 8:00 p.m. However, the last pass is at 7:15 p.m. Between the months of November and March you can be there only from 9:30 a.m. to 4:30 p.m. The last entry will be sold to you at 15:45. In October the schedule is extended a little more, from 9:30 a.m. to 5:00 p.m., therefore, the last entry is at 4:15 p.m.
How to get there?
The best option to visit Urquhart Castle is from Inverness. Whether on a cruise or by public transport, you will arrive quite quickly, as distance is short. Citylink and Stagecoach buses leave at different time intervals to the castle. The journey is half an hour and costs about £10 pounds (return trip). You can check prices and schedules at Traveline Scotland.
If you prefer to take a walk along the river bank you can take a bus from Inverness to Drumnadrochit. Once there you have the possibility to visit its museums and then walk to the castle. This may take up to 45 minutes, but it is worth it to enjoy the landscape of the Highlands. If you are in a hurry you can also take a local bus, which will leave you there in just 5 minutes.
Ticket price
The entrance to the castle is included in the Historic Environment Scotland Explorer Pass. If you have not obtained it, adult tickets cost £12. Those over 60 have a slight reduction, and also young people between the ages of 5 and 15 pay approximately half price, while children under 5 can access the castle for free.

Loch Ness Exhibition Center
The center was created in 1980, but was renovated in 2000. It is located in Drumnadrochit, very close to Urquhart Castle. Inside you would find a complete exhibition of pictures, legends, objects and materials linked to the monster, but also rooms going well beyond Nessie: the geological past of the loch and the biodiversity it holds. Ah! The information panels are translated into eleven languages, so you won't miss anything at all. It is an ideal place for the little ones and, although there are a few shops of souvenirs in the area, you can also buy here everything you wanted about Nessie.

When to visit this center?
In winter months, the center is open from 10:00 a.m. to 3:30 p.m. From Easter until June it is from 9:30 a.m. to 5:00 p.m. In the warmer months, such as July and August, you can access the center for longer, from 9:30 a.m. to 6:00 p.m. In September and October it will close only one hour before that time.

How to get there?
The best option is the Citylink company buses, which stop at Drumnadrochit on the Inverness – Fort William line. You also have buses from Inverness to Cannich and Tomich that also stop in the village.
Ticket price
Adult tickets start at £8.45, but there also concession tickets for older people, reductions for kids, and even free entrance if they are younger than 6. Also, there is a special discount for families of four or more members, paying only £23.95.

How is the weather like in Loch Ness?
Although the Highlands may be cold on Winter, the volume of water stored by Loch Ness balances temperature, so the weather here is milder than in the region around, both on Winter and Summer. A good reference for the loch is the temperature of Inverness, which is one of the closest populations. You should not forget that the extension of Loch Ness is important, but the main attractions are to the north, a few miles from Inverness. As can be seen in the following graph, rainfall is significant, even in the driest months. Temperatures are mild, with an annual average of about 8ºC. Waterproof clothing is always a must if you want to explore the Highlands.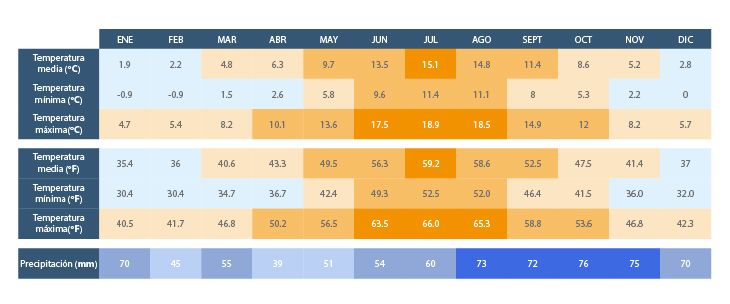 Graphics purchased at https://es.climate—data.org/location/89/
How to travel to the area of Loch Ness?
There is no direct public transport to Loch Ness from Edinburgh, but to the city of Inverness, that you can reach by train or bus. The train journey takes three and a half hours from Edinburgh and prices vary according to the day and time chosen. We recommend to buy the ticket in advance at ScotRail to benefit from discounts. The cheapest option is the bus, and the duration of the trip is approximately the same: three and a half hours. To be sure about price and times, you can check the Megabus website, one of the major companies operating the line.
If you are not afraid to drive on the left, you can make the trip in your car or in a rental car. The loch is about 200 miles apart from the Scottish capital, so those three and a half hours are inevitable, but worth it.
Where to stay to visit Loch Ness?
If you want to spend more than one day at Loch Ness, it is best to stay in Inverness, although you can also find some limited accommodation in Fort Augustus or Drumnadrochit. We can recommend several options, although we must bear in mind that the city is small in size, and although very tourism-driven, it can be difficult to find a place in the peak of the high season. There are a few guest houses, hotels and hostels, and also even some cozy B&Bs. Here we present you two affordable and interesting options:

Ardentorrie House
For about £80 a night you can stay in this B&B that has all the comforts. It is located one minute from Inverness Castle, five minutes from the train and bus stations, and twenty minutes by car from Loch Ness. It offers spacious rooms with their own bathroom, but one of their biggest hits is their Scottish full breakfast, served every day.

Pentahotel Inverness
This hotel is ideal because it is very central, located just one hundred yards from the train and bus stations in Inverness. By car you can reach Loch Ness in just twenty minutes. Bedrooms are spacious and bright, with private bathrooms and all kinds of amenities. There is room service, a high quality breakfast and a playground for the little ones. The price per night is around £100-150.

Información de interés
You have some interesting hiking trails, such as the South Loch Ness Trail. It is very long (about 30 miles), linking Fort Augustus with the outskirts of Inverness by the East bank of Loch Ness. If you want you can also do the route in kayak, crossing the loch from North to South, but for this you must register first on the Scottish Canals website and pay a very small fee.

Map of Loch Ness

As you can imagine, we offer one trip to visit the mysterious loch: a day tour to Loch Ness, Glencoe Valley and Highlands. Do not miss it!