The Explorer Pass is a recommended card for travellers who intend to visit more than two or three of the 70 monuments that are linked to the Historic Scotland organization. LochNessBus.com is the official distributor of these cards and you can book it through this link indicating the days that they will be in Scotland.
Some of the monuments they can use are: Edinburgh Castle, Stirling Castle, Urqhuart Castle, Doune Castle, Dirlenton Castle, Borders Abbeys, Fort George, Linlightgow Palace, Iona Abbey, the Dallas Dhu Distillery and many more. You can find a complete list below.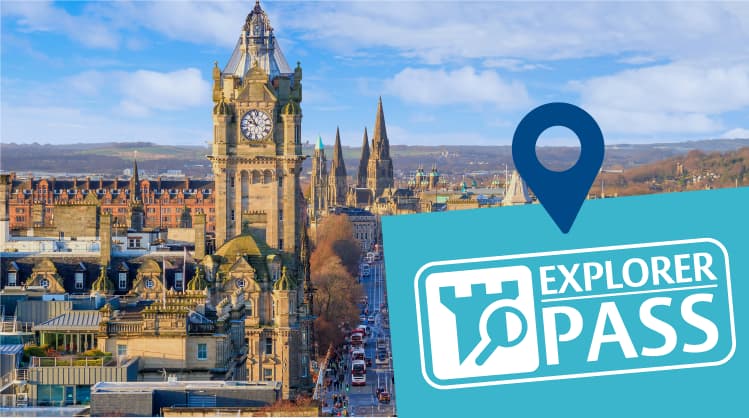 What includes
– Free entry to buildings
– Free entry to many of the events held at the monuments
– Information pack
– 20% discount on the audio guides of the castles of Edinburgh and Stirling
Why should I get it
Saving
With just two or three visits, you can save. The more sites you visit, the greater the savings.
Example use of the Explorer Pass: Three-day pass / Adult / High season
Edinburgh Castle: £ 19.50
Stirling Castle: £ 16.00
Doune Castle: £ 9.00
Urquhart Castle: £ 12.00
Total price: £ 56.50
Three-day pass / Adult / High season: 33.00
Savings: £ 25.50
Flexibility
Visit the places in the days you really want to.
No queues

At Edinburgh Castles and Stirling Castle you can skip the lines. You will simply have to pass the entrance through a scanner at the entrance door.
Children under 5 are free
Age identification will be requested at the entrance of the monuments.
The Explorer Pass option will be very useful to all those who accompany us on our trips and to visit the castles and monuments that we include in them.
To reserve the Explorer Pass you just have to complete this book through our website.
List of places included in the Explorer Pass
Next we leave a list with the sites included in the Explorer Pass. To see the full map, click here.
1 Aberdour Castle & Garden.
2 Arbroath Abbey
3 Argyll's Lodging (Stirling)
4 Balvenie Castle(Cerca Dufftown, Moray)
5 Bishop's & Earl's Palaces, Kirkwall
6 Blackhouse, Arnol
7 Blackness Castle
8 Bonawe Historic Iron Furnace
9 Bothwell Castle
10 Brough of Birsay
11 Broch of Gurness
12 Caerlaverock Castle
13 Cairnpapple Hill * you need to book in advance
14 Calanais Standing Stones & Visitor Centre
15 Cardoness Castle
16 Castle Campbell & Gardens
17 Corgarff Castle
18 Craigmillar Castle
19 Craignethan Castle
20 Crichton Castle
21 Crossraguel Abbey
22 Dallas Dhu Historic Distillery
23 Dirleton Castle & Gardens
24 Castillo de Doune
25 Dryburgh Abbey
26 Duff House
27 Dumbarton Castle
28 Dunblane Cathedral
29 Dundonald Castle
30 Dundrennan Abbey
31 Abadía y Palacio de Dunfermline
32 Dunstaffnage Castle & Chapel
33 Castillo de Edimburgo
34 Edzell Castle & Garden
35 Elcho Castle
36 Elgin Cathedral
37 Fort George
38 Catedral de Glasgow
39 Glenluce Abbey
40 Hackness Martello Tower & Battery
41 Hermitage Castle
42 Huntingtower Castle
43 Huntly Castle
44 Inchcolm Abbey & Island
45 Inchmahome Priory
46 Abadía y convento de Iona
47 Jarlshof Prehistoric & Norse Settlement
48 Jedburgh Abbey
49 Kildrummy Castle
50 Kinnaird Head Castle Lighthouse & Museum
51 Kisimul Castle
52 Linlithgow Palace
53 Lochleven Castle
54 MacLellan's Castle
55 Maeshowe * you need to book in advance
56 Meigle Sculptured Stones
57 Abadía de Melrose
58 New Abbey Corn Mill
59 Newark Castle
60 Rothesay Castle
61 Rowallan Castle
62 Castillo de Saint Andrews
63 Catedral de Saint Andrews
64 St Serf's Church & Dupplin Cross
65 St Vigeans Sculptured Stones * you need to book in advance
66 Seton Collegiate Church
67 Skara Brae Prehistoric Village
68 Smailholm Tower
69 Spynie Palace
70 Stanley Mills
71 Castillo de Stirling
72 Sweetheart Abbey
73 Tantallon Castle
74 Threave Castle
75 Tolquhon Castle
76 Trinity House Maritime Museum * you need to book in advance
77 Castillo de Urquhart
78 Whithorn Priory & Museum